Appointments with psychologist are outside office hours also possible.
Experiences of clients with an average client satisfaction of 82% based on 434 participants.
Centrally located in the city center near Neude and Janskerkhof.
Welcome to WelBewust Psychologist
We work with (young) adults from 18 years and you can contact us directly.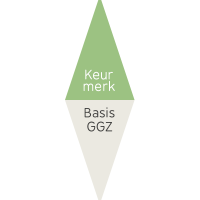 National Quality Mark Psychology
---
WelBewust Psycholoog Utrecht has the national quality mark of psychology (BGGZ). This quality label is provided by Foundation Kwaliteit in Basis GGZ. This label shows that WelBewust Psycholoog Utrecht puts extra effort in providing you with the right care at the right time.
Standards & The qualification criteria
---
The national quality mark includes standards over different themes. The standards are drawn up jointly by health care providers, experts and insurer. Take a look at the concrete definition of what is guaranteed and how WelBewust Psycholoog demonstrates this: the qualification criteria.
Are you looking for a psychologist?
You can contact us for the following symptoms and problems:
Therapies at WelBewust Psychologist Utrecht can be done in groups, using various therapy methods, matching with your symptoms and requests.
Below you will find more information about the therapies provided by WelBewust Psychologist Utrecht. All these forms of therapy are (as part of a treatment) reimbursed by Dutch and international health insurers.
Cognitive behavioral therapy [CBT] is a combination of looking at thoughts that have become problematic and investigating problematic behavioral patterns. CBT is a psycho-social intervention that is the most widely used evidence-based practice aimed at improving mental health. CBT focuses on the development of personal coping strategies that focuses on solving current problems and changing unhelpful patterns in cognition (for example thoughts, beliefs and attitudes), behaviors, and emotional regulation.
Eye Movement Desensitization and Reprocessing [EMDR] is a therapy for people who continue to suffer from the consequences of traumatic experiences. The most important approach in EMDR therapy is to help the client process the memories of these events, with the intention of reducing the symptoms or make them disappear.
Competitive Memory Training [COMET] is a short-term cognitive behavioral intervention using various exercises to look at yourself or problematic situations differently. COMET is a therapy which improves a person's self-image. 
Mindfulness Based Cognitive Behavioral Therapy [MBCT] aims to develop a different attitude towards (mental) problems. Mindfulness has two components. The first component concerns self-regulation of attention. The second component is developing a curious and accepting attitude towards experiences and feelings. Principles of mindfulness can be applied as part of cognitive behavioral therapy.
The main focus of Positive Psychology are in particular possibilities, qualities and that what makes you happy. This therapy is rather about releasing certain patterns, than imposing yourself on requirements that you must meet. Positive psychology is used in addition to other forms of therapy.
Groups consist of up to 6 participants and are available for clients with mild to moderate symptoms in anxiety, fear of failure and self-confidence. Using elements from cognitive behavioral therapy and positive psychology, exercises are done together to gain more insight into the symptoms and to reduce them. Exchanging experiences, giving advice, supporting and practicing with each other proves to have a great added value for clients and usually results in a quicker progress.
At WelBewust Psychologist Utrecht we use E-Health in the form of online modules, exercises and online questionnaires. We also apply video calling with the psychologist within our therapies. Video calling is a form of E-Health in which there is face-to-face contact between you and the psychologist online.
The benefits include:
Efficient: Video Calling is location-independent. For example, situations in which this is pleasant are when:
You live at two locations

You will travel

You have been on the road for a long time

You are visiting family or friends who live far away

You are on holiday

You are not able to go out of the house (physically or mentally)

You have long travel times and do not want to spend time or money on this
- Effective: You have contact with your psychologist in the same way as if you have a physical appointment at the practice. You can also immediately discuss your progress and experience with the E-Health modules, which can be seen digitally.
-Safe: Because of the secure video connection, online contact between you and your psychologist is safe and according to the standards of information security and privacy.
At WelBewust Psychologist the costs of your treatment are fully reimbursed by your health insurance company.
For which reimbursement do you qualify?
WelBewust Psychologist Utrecht has contracts with all Dutch health insurers for Basic Mental Health Care (BGGZ) and the European Health Insurance Card (EHIC).
This means that you are fully reimbursed for your health insurance. A DSM-V classification is needed (for example depression or anxiety disorder).
We have contracts with the following Dutch health insurers:
Silver Cross, OZF, Interpolis, FBTO, Avero Achmea, Nedasco / Caresco, IAK, Aevitae, Turien & Co., CZ, CZ Direct, Delta Lloyd, OHRA, VGZ, Unive, Stichting Ziektekosten Krijgsmacht (SZVK), ZEKUR, Caring for Insured, MVJP, IZA Cura, Bewuzt, Besured, IZA, Turien & Co Assuradeuren, Caresco, Aevitae, IZZ, UMC, Lancyr, Kruidvat, Multizorg, Zorg en Zekerheid, Eno, Salland Zorgdirect, Energiek, Hollandzorg, Salland Insurance, ONVZ, PNO care, Vvaa, ASR, Better Near, Ditzo, De Amersfoortse, Menzis, Anderzorg, Azivo, Hema, DSW, City Holland, inTwente and De Friesland.
Psychological care is covered by the basic insurance policy and thus claims the statutory own risk. In 2020, that is € 385, - (unless you have opted for a higher risk).
Reimbursement EHIC
Also, if you have an European Health Insurance Card (EHIC) you will be reimbursed for treatments at WelBewust Psychologist during your stay in the Netherlands. In that case we will claim the costs of the health insurance directly. Therefore we will need a copy of your European Health Insurance Card, that you will need to bring to the intake. In this case, there are no additional costs for you personally.
Other or no health insurance
If you are not insured with any health insurers stated above, you are responsible for all outstanding fees. We will send you the bill and you'll have 14 days to pay. After payment of the full fee you have the option to submit a claim to your insurer yourself. Please check your insurance policy and advise us on any limitations that may affect your coverage for this treatment.
If you have any questions about the reimbursement of your health insurer, please contact us and we will inform you about the possibilities.
Basic Mental Health Care (GBGGZ)
The GBGGZ is a policy that works with 'treatment programs' in which you will be dependent on the severity of the symptoms and amount of distress. This will be established during the intake.
These treatment programs have their own fixed rates, in which all appointments and activities are registered. These include the following actions:
The short intake with the practice by telephone and check of the referral.

The personal intake with the psychologist

The treatment sessions

The time the psychologist spends on administration and record keeping for your file and if necessary consultations concerning the treatment

The questionnaires

E-Health exercises and / or modules
Upon completion of the treatment program, this program (with all the registered activities within it) will be declared to the health insurer. Declaration does not go through session or activity, but is based on the agreed treatment program.
If after the intake treatment, we must declare an 'incomplete treatment program' to the health insurer.
Description treatment program
Short, mild mental symptoms (max 294 minutes)
Medium, moderate mental symptoms (max 495 minutes)
Intensive, severe mental symptoms (max 750 minutes)
Incomplete treatment program, applies in case of incorrect registration (max 120 minutes)
Treatments are only made by appointment. This means that we have a strict schedule. It also means that the psychologist prepared the session specially for you. Appointments cannot be cancelled, aside from when you cannot be present in case of emergency. Making an appointment is not without obligation and is always personal. When you make an appointment, you automatically agree with our CANCELLATION TERMS AND CONDITIONS:
Cancelation of an appointment is only possible in case of emergency and if you do it 48 before the appointment it is without any costs. Cancelling is possible on working days from 9am until 5pm by phone with tel: 030-2074447 and through E-mail to: mailto:afspraak@welbewustpsycholoog.nl.
Holidays and the weekend from Fridays after 12pm are not included in the 48 hours. Appointments that are planned on Mondays, can only be cancelled before Friday 12pm without charging you. This can only be done in case of emergency.
Cost of reserved time
Reserved time session (45 min. appointment, 15 min. reporting)

€ 95,-*

*

You need to pay these costs yourself.
Appointments cannot only be cancelled by E-mail (except during holidays). First you have to call and after that you can E-mail us. Every cancelation in the 48 hours before the appointment will be charged 95,- euro. Unfortunately we cannot make an exception, regardless of the reason.
There are mutiple reasons why we cannot make an exception:
The psychologist loses the reserved time - the preparation time and the time of the session. This is not reimbursed  by the health insurer,

Other clients that need help cannot use this time,

The progress of the canceling client will slow down,

Admininstrations fees for the health organization (no show invoice, cancelation, reschadule the agenda, phone calls etc.).
Not all treatments for disorders and problems are covered by the criteria of a DSM-V disorder. Sometimes this care is reimbursed from additional insurance. Treatment is also available at your own expense. We will charge the costs of these sessions to yourself. If possible, you can submit it to your health insurer for reimbursement yourself.
If you do not want a referral from your General Practitioner, a treatment at your own cost is also possible. For uninsured care, the following rates apply.
Rates uninsured care (from 01-01-2020)
Session (45 min. face to face, 15 min. record keeping)

€ 110,27

Intake session (45 min. face to face, 45 min. preperation and record keeping)

€ 165,40

Telephone consultation (30 min, based on number of minutes)

€ 55,14

E-mail consultation, writing an external report (15 min. based on number of min.)

€ 27,57
Bank details WelBewust Psycholoog
Bank name: ING Bank
Bank account NO. (IBAN): NL14 INGB 0006594604
Regarding organization: Welbewust Psycholoog
BIC / SWIFT: INGBNL2A
Address: ING Bank SA - Foreign Operations - PO Box 1800 - 1000BV Amsterdam
Please mention the following information in your transfer
Full name
Treatment program
Invoice Number
We work with call back requests. Please do not hesitate and leave a voicemail or fill in the contactform for a call back request.
Benieuwd naar de ervaringen van cliënten van WelBewust Psycholoog Utrecht?